Despite all the shrinkage that can occur with dreadlocks, your hair is constantly growing. The new hair that is growing from your scalp is called new growth, however, these hairs are not knotted as the rest of your dreads.
People with natural/Freeform dreads allow their new growth to lock on its own. While dreads that are regularly maintained such as Sisterlocs or even Semi-Freeform new growth is either interlock or palm rolled.
Table of Contents
Once your dreads are mature your new growth will lock up and the dreading process will continue. Close hair will lock together whether it's manipulated or Freeform dreads.
The only difference is with natural dreads you leave your new growth to lock without manipulating while dreads that is re-twisted and style are palm-rolled or interlocked.
According to Yannie the Locologist there are two ways your hair grows. She says some people's new growth grows within their locs while others grow outside their locs.
Tips to Apply Edge Control With Dreads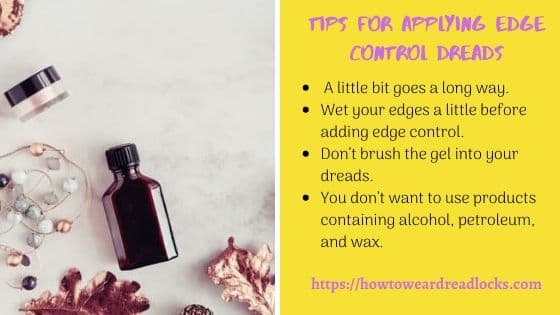 When applying edge control to your locs don't use a lot of products, a little goes a long way. Also, when applying the product make sure your hair is damp.
Texture response well with water so, wetting your edges a little before adding edge control will control your baby hair for a longer time.
Retwist new growth when dreads are wet with natural oils such as coconut oil. I find this technique works best especially if you don't want products that increase buildup.
If you are laying your edges: Don't brush the gel into your dreads instead, brush it away from your locs.
Also, after you have laid your edges for an event or outing before showering use your shower cap as usual, however, on the previous sleek edges wash out the gel with water to get rid of any baby hair buildup.–this will keep your baby hair fresh.
You don't want to use products containing alcohol, petroleum, and wax that can cause buildup and suffocating your hairline leading to thinning of the edges.
The Best Products For Retwisting Dreads
Cococare Almond Oil
The Cocrocare Almond oil is a great product that moisturizes and adds shine to your hair after wash. It's a 100% natural Almond oil and lasts long because you don't have to use a lot. Now, you apply this to your hair by putting a little on the tips of your fingers when retwisting.
Fruit of the Earth Aloe Vera Gel
Not only does the Fruit of the Earth Aloe Vera Gel Great for your new growth but it works wonders to the skin and sunburn. There is no flaking and no crunch with this gel.
It's the perfect product for edge control and re-twisting new growth. I wouldn't use the gel for re-twisting my new growth for all my locs but only with the four rows to the front of my dreads to control frizzes.
Twisted Sista Nourishing Sleek Edge Gel
The Twisted Sista is free from paraben, sulfate, and mineral oils. It doesn't cause buildup nor leaves flakes behind. I use this product myself and found it to be gentle on my baby hair.
To apply, use a soft brush my favourite is a toothbrush to help with the product application. After I've added the product and get the desired look, I would wrap my hairline to help the hair lay down after it dries to prevent baby hair from curling up.
I love to see new growth in my dreadlocks since this ensures me my locs are growing healthy and long. For the front, I like to add a little of the Alvero Gel for control and a neater look.
The Best Oils For Retwisting Your Dread
The Black Jamaican Castro Oil
Black Jamaican Castro oil is an excellent natural product that promotes the healthy growth of your dreads. If you suffer from thin locs this oil thickens your new growth. You don't want to use this natural oil on your dreads but the roots only, because of the thickness of the oil it causes buildup and attracts dust.
Vitamin E Oil prevents frizz and improve circulation to the scalp and is a great natural oil for retwisting locs. Apart from this, it balances oil productions and locks in hair moisture. Products like Health Priority consists of 100% natural organic vitamin E oil and carrier oils of jojoba and avocado oil.
Coconut and Olive Oils– Another set of oils that moisturize your dreads. It is perfect for people who suffer from dry scalp. Combine with a clarifying shampoo, coconut and olive oils help remove any buildup of sebum. Olive oil also softens the hair making it easier to palm roll or interlocks new growth.
Can You Retwisting Locs With Water And Oil?
Yes, you can retwist your locs with distilled water and oil because it makes your dreads easy to manage. Add five tablespoons of water and the few drops of your desired mixture of natural oils in an applicator bottle. Shake well and apply when retwisting your hair.
Pingback: The Best Shampoo For Dreadlocks- Top Shampoos For Locs.