You've definitely heard some potentially off-putting information about dreadlocks, whether you already have them or are thinking about getting your first pair. There's a widespread misconception on the internet that all dreads have a bad odour.
Is this correct?
We'll answer this question in depth in this article. You'll learn whether all dreads stink, what variables contribute to stinky dreads, and how to make your dreads smell pleasant by the end of this article.
No : if you take care of your dreads
Yes : if you don't wash and grow healthy dreadlocks
Table of Contents
Everybody is different, but any kind of hairs need to be treated as your crown!
The smell of dreadlocks is often a result of what your hair naturally smells like mixed with sweat or other factors such as your diet, hygiene, and skin type.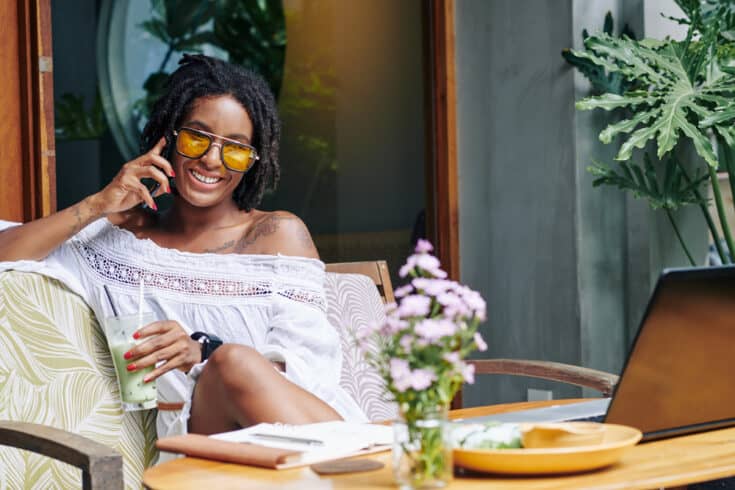 Dreadlocks are essentially matted hair, which has the ability to retain odours faster than loose hair. However, this does not indicate that dreadlocks smell unpleasant or are doomed to smell bad in the future.
If you don't know how to properly care for your dreads, they may develop an unpleasant odour. Your dreadlocks, on the other hand, can smell just as nice as anyone else's hair if you take adequate care of them.

Why Do Dreadlocks Have a Bad Smell?
There are a variety of reasons why dreads stink, so it's critical to figure out what's causing the unpleasant stench. We'll go through some of the most prevalent reasons why your dreads stink in this section.
Mold development. If your hair isn't thoroughly dried after washing, mould (dread rot) might grow in your dreadlocks. It gives off a mildewy odour that's difficult to get rid of.
odours in the environment Air pollution, food odours, and smoke are all examples of odours that can collect in your dreads and generate an odour.
Sweat. Sweat can make your dreadlocks smell bad. If you work out without rinsing or airing out your scalp and hair on a regular basis, you may detect an unpleasant odour after a while.
Washing done incorrectly. An foul odour in locs can also be caused by improper washing. The stink could be due to a buildup of sweat and scents that haven't been wiped away thoroughly.
How to Get Rid of Smelly Dreadlocks
Let's go into some strategies to keep irritating scents at bay now that you know a few of the most common reasons why locs stink.
How To Clean Gunk Out Of Dreads? or Get Rid of Your Dirty Locs
Washing your locs on a regular basis is the single most effective approach to eliminate a terrible dreadlock odour.
When it comes to washing dreads, you have to strike a delicate balance. You shouldn't over-wash your hair, but you should wash it frequently enough to avoid odours and buildup.

As a general guideline, you should wash your dreadlocks with a clarifying shampoo every week or so to remove dirt and excess oils. Discrover how often should I wash my dreadlocks To Prevent Build-up?
It's also crucial to brush your scalp vigorously with the pads of your fingers for several minutes. This will lessen the likelihood of smells and accumulation.
If your hair is short, you can wash it with normal shampoos in the same way you would loose natural hair. It's crucial, though, to brush each dreadlock individually to ensure that all dirt and debris are removed.
Cleansing your dreads in a large bowl with a mixture of residue-free shampoo and warm water is the best method to keep them clean and prevent smells. Read also if Is Rosewater Good For dreads?
Scrubbing and then softly soaking your locs in the bowl, rather than washing them upright in the shower or hunched over a sink, helps to release more dirt and buildup.
You may take things a step further by using a shampoo brush, which will make removing buildup from your scalp much easier.
Make a Moisturizer using Essential Oils

Add essential oils to your moisturiser to take it to the next level. The essential oils will not only assist to hide any scents in your hair, but they may also aid with scalp circulation, relaxation, and a variety of other problems.
Before adding any essential oil to your loc moisturiser, make sure you run a skin test first. Essential oils can induce skin reactions ranging from redness and itching to swelling and hives. Tea tree oil, lavender oil, and coconut oil are a few of our favourites.
Mask a Really Smelly Head with Headwraps or Hats
Wearing a headwrap or hat can help hide the odour until you find a remedy if your dreads have a lasting odour that you haven't figured out how to fix.
Smoke, dust, and other ambient scents will not settle in your dreads if you use a headwrap.
Try soaking in white vinegar.
If you suspect mould is causing your foul loc odour, a vinegar soak might be in order. In addition to killing the mould in your dreads, vinegar also has a pleasant odour.
Know more and learn if Apple Cider Vinegar is Good For Dreadlocks?
Simply combine 1 part distilled white vinegar with 1 part distilled water in a big bucket or bowl. Pour it over your dreadlocks and scalp it with a bucket a few times. Allow 15 minutes for the mixture to rest in your hair.
After that, you can wash your hair as usual, but make sure to properly dry your dreadlocks, leaving no moisture left. If the mouldy stench persists, repeat the vinegar soaking process for the next few washes until the smell disappears completely.
Whatch our video on "How to detox your dreadlocks with apple cider !"
While there are certain techniques to get rid of unwanted odours in dreadlocks, you'll most likely have to wash your hair to get rid of the overall stink.
How to Keep Dreads from Stinking

Taking preventive measures is essential, whether you've just gotten rid of a nasty odour in your dreadlocks or want to ensure that one never arises. The sections that follow will provide you with some useful hints for preventing undesirable odours from growing in your locs.
Maintain Your Locs' Dryness
Drying your dreadlocks properly is one of the most important ways to avoid an unpleasant odour. This implies you should let your scalp air dry if your dreadlocks get wet (from sweat, moisturising sprays, moisture from showers, etc.).
If you don't have time to let your hair air dry before bed, you can use a hair dryer (or blow dryer) to dry your scalp and hair. To limit the risk of hair damage and breakage, we always recommend using the cool setting on your hair drier.
In addition to the aforementioned, never cover your dreads while they are still wet. After you've gotten as much water out of your dreads as possible, wrap your hair in a microfiber towel (or a clean towel if you don't have microfiber) to get even more out.
After that, air dry or blow dry your hair until it feels fully dry. To be safe, some even advise going outside and sitting in the sun (don't forget your sunscreen!).
Wet locs have a tendency to stink after a while. Another suggestion is to use a shower cap to keep your dreads from getting wet in between shampooing sessions.
Rinse your scalp with a mixture of apple cider vinegar and water.
After washing your hair, use an apple cider vinegar rinse to help prevent bacteria and mould from growing in your dreads.
Simply mix one part apple cider vinegar with one part water in a spray bottle and spritz your scalp and locs with it. Before rinsing away the ACV mixture, let it sit for a few minutes. This rinse can be used once every couple of weeks to keep your locs odor-free.
You can buy a pre-made ACV spray if you don't want to make the mixture yourself. Follow the directions on the package for the greatest results if you go this route.

Conclusion
When you discover an odour coming from your dreads, don't freak out. Because once you figure out why your dreadlocks stink, you'll be able to quickly find a way to get rid of it.
We propose that you attempt the solutions in this post and, more importantly, take preventative measures to avoid dreadlock odours in the first place.