Dreadlocks are an ideal hairstyle that makes us feel connected to our roots and flatter our appearance at the same time. So, everyone, especially black women, wants to have dreadlocks, but it takes 10 months to over a year to grow and many more years to achieve the desired length. A good alternative is wearing dreadlock extensions. We advocate dreadlock extensions because it'll help you experiment if you can manage dreadlocks and if this hairstyle looks as chic as you thought.
Table of Contents
Therefore, we've listed our favorite dreadlock extensions. Let's start scrolling.
Best Lightweight dreadlock Extension : Bobbi Boss Crochet Braids Locs 18″
The Bobbi Boss dreadlock extensions are made of synthetic fiber, which is soft and not extremely shiny. This is the reason it feels and looks like human hair extensions. Moreover, it is super lightweight and true to color. Furthermore, customers find it easy to style and these locs are available in various colors. Also, these Bobbi Boss dreadlocks are easy to wash.
These Nu locs are pretty on their own and become even more graceful when combined with other locs styles, i.e., Boho, butterfly locs, passion twist, and goddess faux locs.
My point of view
In my opinion, this dreadlock hair extension is of high quality in all aspects. As far as its color is concerned, it may be slightly different, but it is still pretty to flatter your style. After cutting the dreadlocks, this or any, you should burn the ends to avoid unraveling. For a more realistic look at the roots, I suggest you use a knotless method. Moreover, I find it more affordable than local beauty stores.
According to all the metrics discussed, I rate it 9.8 out of 10 Click here to check on amazon
Soft
Not extremely shiny
Lightweight
Easy to style
Not itchy
Does not tangle
Does not snag the clothes
Easy to wash
Affordable
Various colors available
Best Easy-To Install Dreadlock Extension – LIYATE Butterfly Pre-looped Soft Locs 22″
These Liyate dreadlock extensions are soft and made of 100% low-temperature fiber. It comes in a pack of seven; therefore, one purchase is sufficient for full head coverage. This Liyate dreadlock extension comes with a crochet needle and rings, so dreadlock wearers who want to save time and money, especially beginners, find it pretty easy to install.
This dreadlock extension is best to achieve a goddess locs hairstyle.
My point of view
If someone is looking for tightly, securely made locs that are super soft and bouncy, too, then look no further; pick this Liyate dreadlock hair extension. According to my experience, if you want to make your hairstyle last longer (around 4+ weeks), wear dreadlocks as individuals.
I rate it 9.6 out of 10. Click here to check on amazon
Softness
Super lightweight
Quick and easy to install
No smell
Tangle-free
Not easy to unravel, yet bouncy
No shedding
Best Natural Looking Dreadlock Extension SAMBRAID 6 Packs Faux Curly Locs Crochet Hair for Black Women
This Sambraid dreadlock extension is pre-twisted and is of supreme quality. It can be anyone's go-to hair if they want to install hair quickly that doesn't easily get loosened or unravel. It allows you to be carefree about extensions.
These extensions are best for bohemian box braids locs or, in other words, box braids with undone ends.
My point of view
In my opinion, the best part is you can swim or bathe without any tension, even without a shower cap. But don't tease or disturb the root area. The extensions will automatically tighten back up when it dries.
It is best for your biggest moments. I rate it as 9.9 out of 10. Click here to check on amazon
Tangle-free
No hair matting
Hairstyle lasts 1.5 to 2 months
Effortless to style in several ways, i.e., for a night out or playful and loose hairstyles
One order is sufficient for full head coverage
Lightweight
Soft
No smell
It can be reused if well taken care of
Does not irritate or cause damage to the scalp
Best Dreadlock Extension MULTI PACK DEAL FreeTress Synthetic Hair Crochet Braids Hippie Loc 20″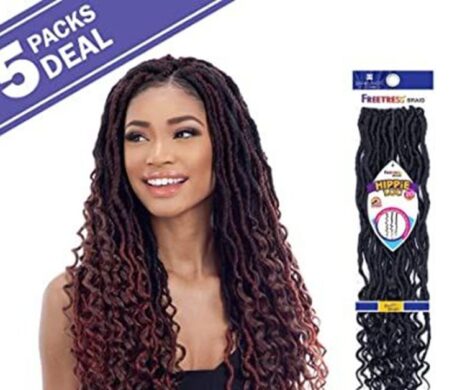 If someone wants a trendier look, they must choose this Free Tress multi-pack deal dreadlocks. Each of its packs has 3 different curl patterns that provide an ultimate realistic look. Order 5 packs if you want full head coverage.
These dreadlock extensions are best to achieve the style of curly dreadlocks with  undone ends.
My point of view
The different shades in dreadlock extensions together make it suitable for any event or any dressing style. According to my judgment, slight tangles in extensions after long wear is natural; you can wear a bonnet at night and moisturize your hair to avoid that.
I'll give it a 9.7 out of 10. Click here to check on amazon
No tangle
Pre-looped
Lasts longer
Very lightweight
Versatile in styling
Realistic
Multi-pack deals, different colors dreadlocks in one order
It tangles a bit sometimes after long wear
Best Human Hair Dreadlocks – DISTINS Handmade Thin Locs
This Distins dreadlock hair extension is made of 100% human hair and has the feel of mature/grown locs. You can dye or bleach it according to your preference. In other words, Distins locs are good for having a unique style without decreasing or compromising on quality.
These extensions are supreme to make traditional and rasta dreadlock hairstyles.
Social proof
My point of view
I believe for adding length and repairing broken-off dreadlocks, a bit of stiffness in locs is good because it indicates dreadlocks are fully locked rather than twisted and interlocked; that's why they would not loosen from their place. However, if you are making locs on natural hair which is obviously naturally soft, it will be a bit of a struggle. Soaking the locs in apple cider vinegar helps in softening the locs.
All good! Because of the work you will have to do to soften the locs; I will rate it 9.3 out of 10. Click here to check on amazon
It can be used to add length and repair broke off dreads
True to color
100% natural dreadlocks
It looks like natural and mature dreadlocks
Can be dyed or bleached
Tightly made
Does not disperse after wash
Made of ideal loc hair type, 4c
Best Hand-made Finish Dreadlock Extensions Bobbi Boss Crochet Braids African Roots Braid Collection Nu Locs 14″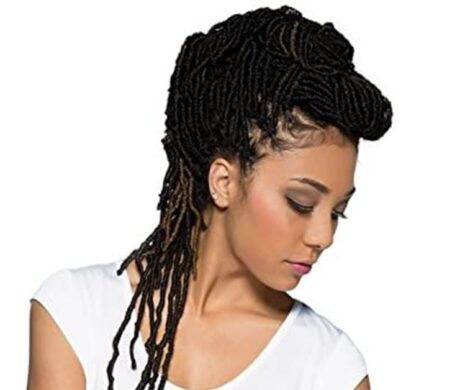 If you are looking for a dreadlock extension that's high enough to keep installed for 3 to 4 weeks and is easy to manage, then this Bobbi Boss extension is the best bet. The hair is coarse, lightweight, and concealed and blends well with natural hair while crochet braiding.
These are worn to achieve a straight dreadlock hairstyle and look gorgeous when combined with other dreadlock styles.
My point of view
The locs are not uniform, and according to my judgment, that's why these looks very natural.
The best part of these dreadlock hair extensions is the older it gets, the better and more natural it looks. I rate it as 9.6 out of 10.
I'll give it a 9.7 out of 10. Click here to check on amazon
It does not unravel when cut
Easy to do crochet braids as well as wrapping around hair
Feels incredibly soft
lightweight
Affordable
Style can last up to 6 weeks
Not easy to work with for beginners as crochet loops are a bit tiny
Best Crochet Braid Dreadlock Freetress 2X SOFT WAVY FAUX LOC 12″
If you want hair that is not itchy and best for sensitive skin from all aspects, then this Free Tress dreadlock extension is a must-buy. This pre-looped feature of hair extensions helps you install them easily. Its beauty helps you stand out from the crowd.
This wavy dreadlock extension can be flaunted in its natural style and is suitable for making simple braids, i.e., a 3-strand braid, bubble braids, and an elegant low bun.
My point of view
According to my research, this Freetress wavy dreadlock does not even cause itching on the face when it touches the face. Also, these dreadlock extensions install best with the crochet technique, are easy to install but not best for long term wear.
I rate this dreadlock extension 9.5 out of 10.
I'll give it a 9.7 out of 10. Click here to check on amazon
Best for sensitive skin
One style lasts for 3 to 4 weeks
It lasts for 2 styles
Lightweight
Best for crochet technique
Blends in with hair naturally
It keeps its texture and good shape after wash
Easy to manage
It comes with crochet and some beads
Affordable
Best Hand-made Dreadlock Extensions Aosome Dreadlock Extensions 20″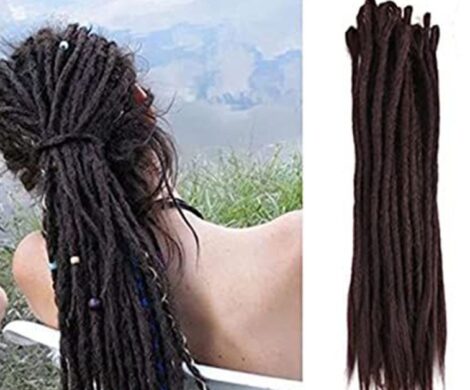 When you are a beginner in dreadlock hair extensions and want an affordable yet cute-looking option, try these Aosome extensions. Moreover, beginners tend to have short-term hairstyles to try different hairstyles to experience what will suit them the best.
If someone wants to achieve Jamaican-style dreadlocks, there's nothing better than this dreadlock extension.
My point of view
In my opinion, this Aosome dreadlocks extension has all the basic things a dreadlock wearer wants. The heaviness of the dreadlock feels at first, but if someone is ready for that and their skin is not sensitive, then this is one of the best dreadlock extension options at affordable prices.
I rate it 7 out of 10. Click here to check on amazon
Lightweight
Best for starting a dreadlock journey
Easy to put in
Ends don't unravel
It can be crocheted onto the ends of real dreads
High-temperature fiber
A bit heavy
Can't be dyed or permed
It can cause scalp itching
Tips For Buying Dreadlock Hair Extensions:
Three dreadlocks-buying tips that are imperative to know in advance are about hair type, length, and style.
First, dreadlock extensions come in human hair and synthetic hair. Human hair requires no maintenance but requires focus in styling, while synthetic hair requires maintenance but a minor focus in styling. Decide which one is best for you.
Second, before you consider a dreadlock extension, find out if it is available in the desired length. For example, 6 to 12 inches extension is best for a short hairstyle, 12 to 16 inches is best for medium hair, and 18 to 20 extension is best for long hairstyle.
Third, before starting to analyze dreadlock hair extensions for purchase, you should check if they are available in the desired style, i.e., tight coils, spring coils, or curly.
Why Trust HTW Dreads?
Arisha Usman, the author, has been a hair-related writer internationally for 4+ years. She enjoys sharing research on products and tools and provides authentic advice/tips for any hair aspect in a light-hearted way.
So, for this best dreadlock extension list, she has done extensive research on customer testimonials and concerns. All these extensions are available in different forms and lengths. Enjoy your purchase in your style.