Dollylocks has been around for a long time and is a trusted brand in the dreadlocks community. A Florida based company, the Dollylocks Shampoo is 100% vegan no parabens, dyes, and all-natural ingredients.
The purpose of this Dollylocks shampoo and detox review is to narrow down your research so you can find a shampoo that works for you. Remember when finding any product for your hair it's a trial and error process since what works for me may not work for you.
HTW Review Of The Dollylocks Shampoo
The Dollylocks shampoo is available in an 8oz bottle in Tea Tree, Spearmint, Nag Campra, and Coconut Lime Grapefruit, etc. It has a screw and a dispenser cap making it an excellent travel shampoo for long trips.
Similarly, they don't lather up too much since it consists of natural ingredients but, if you prefer the foam you can always use a combination of shampoos. One advantage of using the Dollylocks is it doesn't lather up like regular shampoos, therefore, decreases your chances of buildup. However, some may overuse this shampoo because of this.
Thick and creamy shampoo sit on the loc rather than penetrate, plus you will have to spend a lot of time washing out the thick shampoo from your hair. The Dollylocks shampoo doesn't have any overpowering smell depending on the scent it leaves your hair feeling clean.
DOLLYLOCKS Dreadlock Detox Kit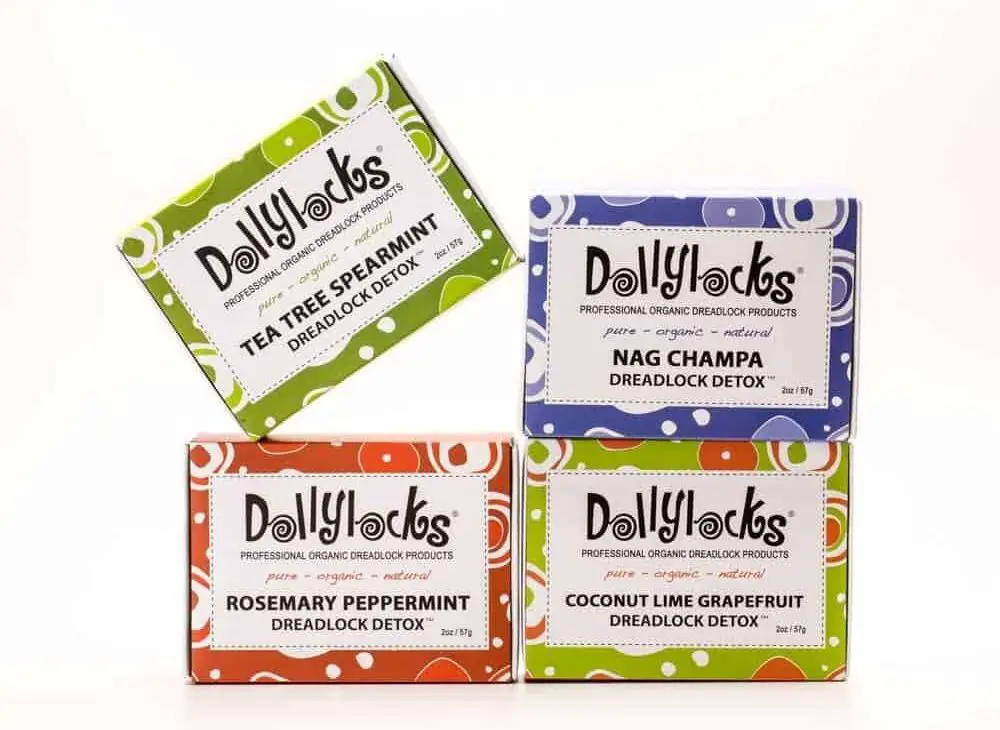 The Dollylocks dreadlock detox kit is a dread cleanse with all organic ingredients. While you can make one at home, this detox adds that extra layer of freshness to your hair. Even if you wash your dreadlocks regularly, the shampoo may not penetrate all the way inside of your locs as a result, a deep cleanse is recommended to remove any buildup left behind.
To use: The box contains a bag with natural ingredients and a small bottle of shampoo for washing your hair after. Pour all the mixture into a small bucket of hot water, then soak your dreads for at least ten mins.
After soaking your hair, wash your dreads with shampoo from the kit. The overall experience should leave your hair feeling cleaner and smell fresher. Don't get alarmed if you don't see a lot of dirt in the bucket, this means your hair was not so dirty after all.
The Dollylocks company has some amazing products, I'm impressed by the all-natural ingredients and subtle scents available. I hope this post helps you in your research on choosing the right products for your dreadlocks