Dreadlocks are such a beautiful and low maintenance way to wear your hair, whether it's for spiritual or style it is part of a rich culture. Crochet Faux locs, a child of dreads is super easy to install and style because it's not as stiff as the Marley or Kanekalon extensions.
Table of Contents
You can also experiment with crochet faux locs and wear them in a variety of styles each day of the month. Plus, you can try plain faux or add curls to the ends. The sky is the limit with this style. Furthermore, it's one of the best protective hairstyles as it covers your natural hair from the elements (sun, rain, etc,), as well as brushing and decrease breakage.
With lots of celebrities slaying this look, it may not be enough for you to decide on whether to install them not. In this post, I'll feature five easy faux loc crochet styles that everyone can try.
Up And Down Faux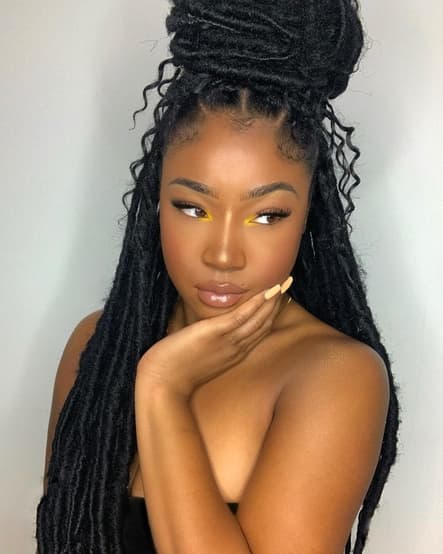 The traditional up and down hairstyle looks amazing on her. This is one of my favourites and the easiest way to style your faux locs. The Modern Queen is pre-looped, soft and light-weight and is the best hair to mimic this look.
Side Swept Faux Locs
This colour looks perfect on her and the curls at the end give it that added flare. Spice up your style with a side-swept, the AISI BEAUTY is so close to the colour, this beautiful woman has in her hair and they are of top quality.
In A PonyTail
Faux locs look amazing in a ponytail. This style is one of the easiest to achieve with just a head tie. The Alicequeenhair is like this hair also, the best part of locs is it last for months with little to no maintenance.
All Laying Down
The crochet Faux locs is the perfect example of protective hairstyles. The hair colour matches with her skin tones and the frame of her face. The best locs that will match this style is the AISI BEAUTY they are easy to install and lightweight.
Green Faux Locs
The green locs is a beauty and it's fast and easy to accomplish. It's an excellent way to pull your hair into two and let it down at a moment's notice. Firstcyh Hair is very soft and easy to wash and is the perfect match for this beautiful women.
How To Crochet Faux Locs?
You can cornrow your hair back and crochet the locs into your hair or box braid your hair and crochet each Faux. There are endless styles with Faux locs since it's another great protective hairstyle.
Pingback to best human dreadlocks extensions.