If you want to change up your style then adding wool dreads extensions to your hair will do just that. It is an excellent way to wear dreadlocks without the long term commitment of the locking process. Mix and match different shades that will accent your makeup and clothing styles as you can find wool in a variety of colours.
Table of Contents
The advantage of wool dreadlocks outweighs the disadvantages as its pretty common issues associate with extensions. In this post, I'll discuss the pros and cons of wool dreads extensions that will help you decide on whether to install them in your hair.
The Pros of Wool Dreadlocks Extensions
Easiest to make
Unlike synthetic or human hair, you don't have to backcomb or crochet the hair into locs. It is simple to make, the process includes dipping the wool in hot soapy water and rolling them into shape with your hands.
Continue the technique of dumping it in hot water and rolling 3-4 times until it maintains its shape. Further, making synthetic or human dreadlocks is very time-consuming and sometimes painful, especially with crocheting.
Not Expensive and widely available
You can find wool at your local craft stores, and a pound is fairly inexpensive. Compared to synthetic which can cost $25 for 15 locs or human hair $50-$100 for 20 dreads extensions and you'll need over twenty to complete a full head.
Straightforward to install
Wool dreads are usually double-ended, and installation is very simple. You can braid them into your hair or twist your hair around the dreads to secure the locs into place. Compared to synthetic or human hair, which requires you to connect them to your hair with a crochet hook.
Washable and long-lasting
Washing wool dreadlocks take minutes to complete as you can soak them in soapy water and let them air dry. Besides this, you can wash wool dreads and reinstall them and if it bends or takes an unnatural form, place them in hot water and roll them back into shape.
The Cons Of Wool Extensions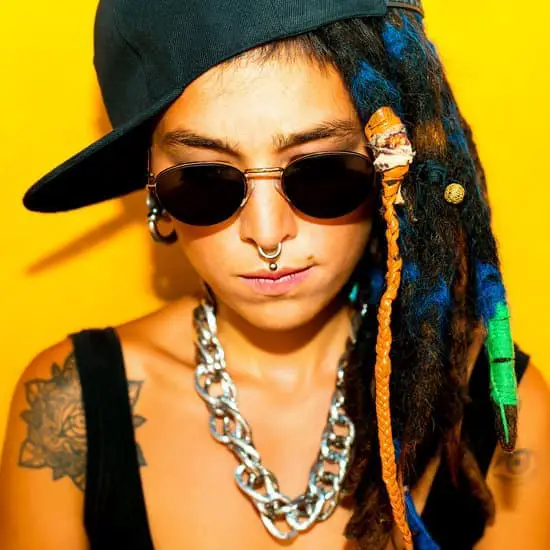 Not Realistic
Wool is not hair! So you will notice the difference when you install them.
Itchy and uncomfortable
After installation, your wool extension may feel itching in your hair. If you experience this you can always wash them in soap, water or shampoo. Also, within the first two days of wool extension, it may pull on your scalp feeling uncomfortable, however, after a few days, it will loosen up.
As I mention above, there are a few cons to wool dreadlocks because it is one of the cheapest, easiest and straightforward dreadlocks extensions to install into your hair.